With Russia attacking Ukraine and reports coming in that casualties are mounting, world leaders are quickly weighing in. President Joe Biden is expected to make a statement later today.
However, there are many who worry that the Commander-in-Chief simply isn't up to the task. Some leaders claim Biden's foreign policy record isn't exactly sparkling, for example.
But for a former White House physician, that's not the biggest issue.
Biden naysayers point toward numerous examples of the President making embarrassing public gaffes, especially in certain speeches where POTUS appears lost or confused.
Former White House doctor Ronny Jackson, who served on Capitol Hill during both the Obama and Trump administrations, has been vocal about Biden's apparent decline.
He's called for the President to take a cognitive test numerous times in the past. And with the world on the verge of another major war, Jackson believes it's even more dangerous to have Biden in charge.
In fact, he said he's "not fit to be our President right now."
As Jackson said during a recent interview, "there's no question in most people's minds that there's something going on with him," and that we've seen mental cognitive issues for over a year.
He added (via The Daily Wire):
Every time he gets up and talks to the American people, it's not just the American people that are watching him speak, it's the whole world, and that's part of what the problem is here.

He looks tired, he looks weak, he looks confused, he's incoherent, and it sends a message of weakness all over the world, and they're seizing up on that.
The doctor also said that we can see Biden's decline over the years. We have "40 years of tape … so it's not like we don't have anything to compare it to."
Jackson added that while Biden has always made some mistakes and blunders, it has never been this bad.
The former Obama and Trump physician cited the Afghanistan debacle as more evidence of Biden's ailing mental state, and now he's worried the President will "get more Americans killed."
Jackson isn't the only leader who's concerned that Biden isn't prepared to handle a war situation, either.
However, as the doctor said, it's also important to note that a large portion of the country believe Biden is impaired in some way. Even those who vote Democrat aren't convinced of his stability.
For example, there's this exchange between a reporter and the President: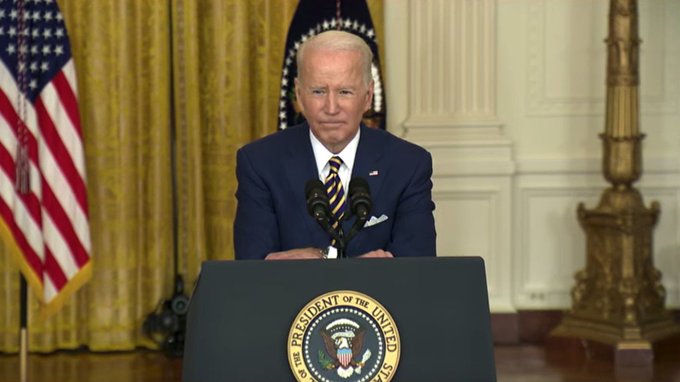 Given that war is clearly on the horizon, and it could involve the United States, now isn't the time to worry about a leader's cognitive capabilities.
And yet, that's precisely what many Americans are most concerned about — that Joe Biden isn't fit to lead in difficult situations, especially as he hasn't done especially well with domestic issues.
After the border crisis, Afghanistan, and widespread inflation, the country already wasn't happy with the President. Now they're worried he's going to cause serious problems worldwide.
Source: The Daily Wire